07/10/2020
The Open Market Consultation is now open!
A series of activities including webinars, questionnaires and Q&A are planned during October-November 2020 for the eCare Open Market Consultation.
The eCare procurers are conducting an Open Market Consultation (OMC) for potential suppliers and end-users. The goals are to bring the market-perspective to the procurement process and to give the supply chain advance notice about the forthcoming call for tenders.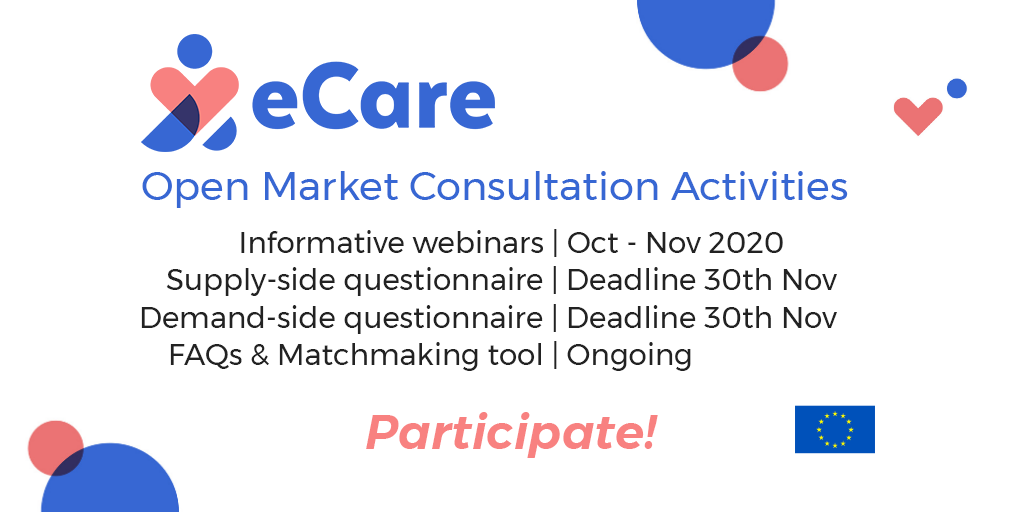 Webinars in October-November 2020
Each procurer is holding an OMC webinar in their local language to explain in detail the PCP process and open a dialogue with the market about the procurement scope. You are welcome to sign up to the forthcoming webinars
In addition, one international OMC webinar will be organised in English on November 3rd.
Questionnaires until the 30th November
A supply-side questionnaire is available to all interested companies that would like to present their available technologies and experience for the eCare challenge, as well as to provide feedback for the tender preparation.
A demand-side questionnaire is also available. If you are a health or social care professional, a patient or an organisation representing the interests of patients, a caregiver… we also want to hear from you! Let us know about what should be included in the procured solution for making it really interesting to you.
Questions and Answers
OMC participants can submit questions relating to eCare by sending an email to hello@ecare-pcp-eu. Answers will be elaborated jointly by the eCare procurers and made available online.
Matchmaking
Many PCP tenderers decide to apply together with international partners in a joint tender (consortium) to be able to fulfil all the requirements (e.g. coverage of different languages, local support in the implementation phase, etc.). eCare aims to give early support to organisations which are seeking such partnerships to allow for identifying the best synergies. All interested suppliers are invited to fill in the supply-side OMC questionnaire to capture their partnership needs. Their profiles will be posted in an OMC matchmaking section.
For more information and how to participate, please visit https://ecare-pcp.eu/omc/