29/06/2023
eCare at the World Elder Abuse Awareness Day (WEAAD)
The World Elder Abuse Awareness Day (WEAAD) was commemorated on 15 June and Santander City Council joined this initiative by developing a series of activities in the City Hall square and in the civic centres. Highlights of the activities in the square included a caricature service and a concert by the Choral Group of Fishing District.
The Innovation Area of City Council participated in the event showcasing two of its projects that are focused on providing benefits to older people and improving their urban life: eCARE (https://ecare-pcp.eu/) and URBANAGE (https://www.urbanage.eu/) both receiving funds from the European Union´s Horizon 2020 Research and Innovation Programme.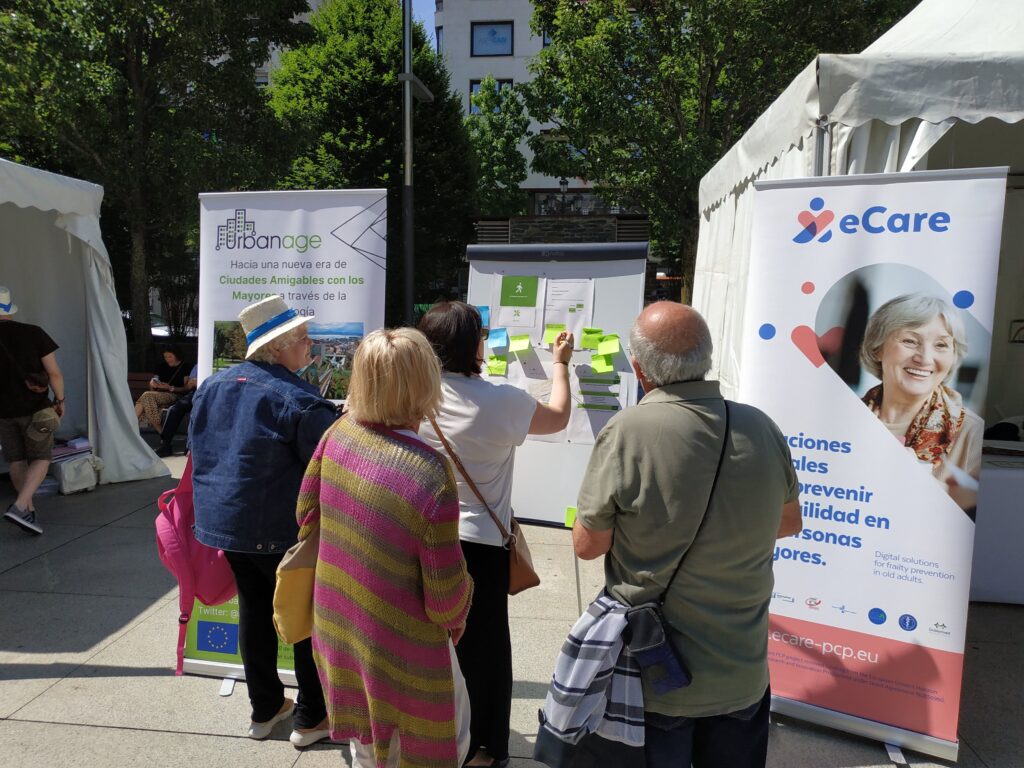 During the day, interesting discussions were held with the visitors to check the degree of alignment between the objectives of the projects and the work done so far and the daily interests. Regarding the eCARE project, welcome and great appreciation for the efforts of the City Council to increase and improve services focused on the elderly. Loneliness, developing a healthy life and having an adequate social life were some of the most highlighted aspects, all of them addressed by eCARE.
Within the URBANAGE project, which focuses on making cities more friendly to older adults, an App was presented to help them find friendly routes that make use of urban mobility infrastructures (ramps, escalators, etc.) and warn them when they are not working in order to facilitate their daily life in the city. This initiative was also enthusiastically welcomed by the visitors and they appreciated the UI adaptation features that have been developed to overcome the barrier of smartphone technology.
Although the overall attendance was much higher, more than 100 visitors attended the European projects showcase space.