16/10/2020
Save the date! November 3rd 2020 international webinar eCare Open Market Consultation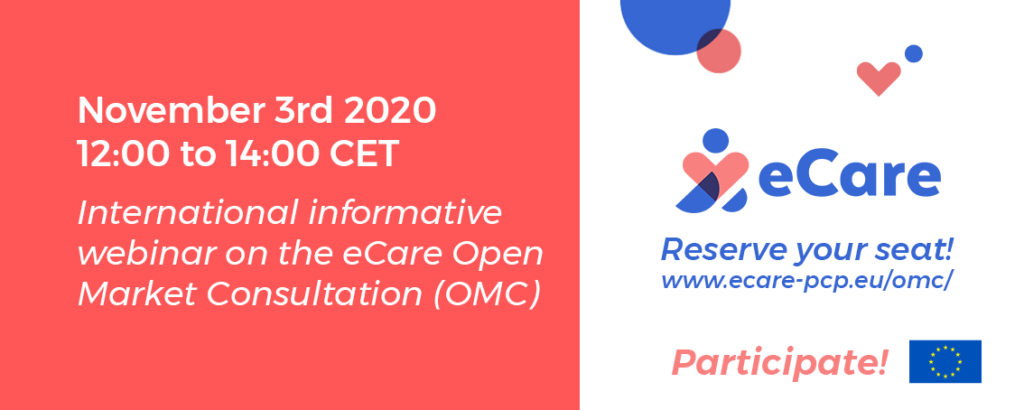 We are happy to announce the launch of an international informative webinar on the eCare Open Market Consultation (OMC). It will be conducted in English on November 3rd at 12:00 CET.
This webinar is part of a series of activities planned during October-November 2020 for the eCare OMC. These activities include webinars in Polish, Spanish an Italian conducted by each eCare procurer. This brand new informative webinar in English comes up as an additional act and will be conducted by the four procurers of the project.
The objective of these webinars is to introduce the eCare project and the planned procurement, as well as explain pre-commercial procurement mechanisms and details on participation and processes. Another goal of these informative sessions is to consult with potential suppliers of digital solutions supporting continuum of care for frailty prevention in old adults.
Webinar agenda
Welcome and introduction
eCare aim and scope
eCare PCP phases and tendering process
Next steps
Questions and answers
Here you can find the main information of the forthcoming webinars. Agenda and content are the same for all of them, regardless of the language. Don't forget to register for the one you are more interested in! You are welcome to attend more than one session, if you want to.
October 21st 2020 | 10:00 – Warsaw
Language: Polish | Hosted by: A. Falkiewicz Specialist Hospital
Registration link: http://bit.ly/polishwebinar21O20
October 22nd 2020 | 10:00 – Madrid
Language: Spanish | Hosted by: Ayuntamiento de Santander and Consorci Sanitari Integral
Registration link: http://bit.ly/spanishwebinar22O20
October 29th 2020 | 10:00 – Roma
Language: Italian | Hosted by: Azienda Sanitaria Locale Benevento
Registration link: http://bit.ly/italianwebinar29O20
November 3rd 2020 | 12:00 – CET
Language: English | Hosted by: A. Falkiewicz Specialist Hospital + Ayuntamiento de Santander + Consorci Sanitari Integral + Azienda Sanitaria Locale Benevento
Registration link: http://bit.ly/englishwebinar3N20
These webinars are open to everybody, to any organisation working on frailty or Active and Healthy Ageing, and supply-side organisations potentially interested in participating in the call for tenders.
Procurers
A. Falkiewicz Specialist Hospital in Wrocław is a leading center in the field of care for the old adults in the Lower Silesia, Poland.
Azienda Sanitaria Locale Benevento is an italian public entity with managerial, technical and financial autonomy organized in 5 districts including hospitals and three multifunctional health centers that hold prevention and mental health departments.
Consorci Sanitari Integral is a public organization of health and social services, which manages 14 centers in the region of Barcelona and the Baix Llobregat in Spain. Among their services they have specialized care, primary care, socio-health care and social area.
Santander City Council (Spain). The city of Santander is the capital of the Cantabria region in the north of Spain and has a current population of approximately 173k inhabitants. The city participates in diverse initiatives and is well-known as a unique living lab in which to experiment with new technologies, applications and services.
Supporting organisations

And also…
There is a supply-side questionnaire: for interested companies to present their available technologies and experience for the eCare challenge, as well as to provide feedback for the tender preparation.
And if you are a health or social care professional, a patient, a caregiver… help us by providing feedback through the demand-side OMC questionnaire!