11/01/2022
The eCare project selects 8 innovative ideas for the comprehensive management of frailty in older adults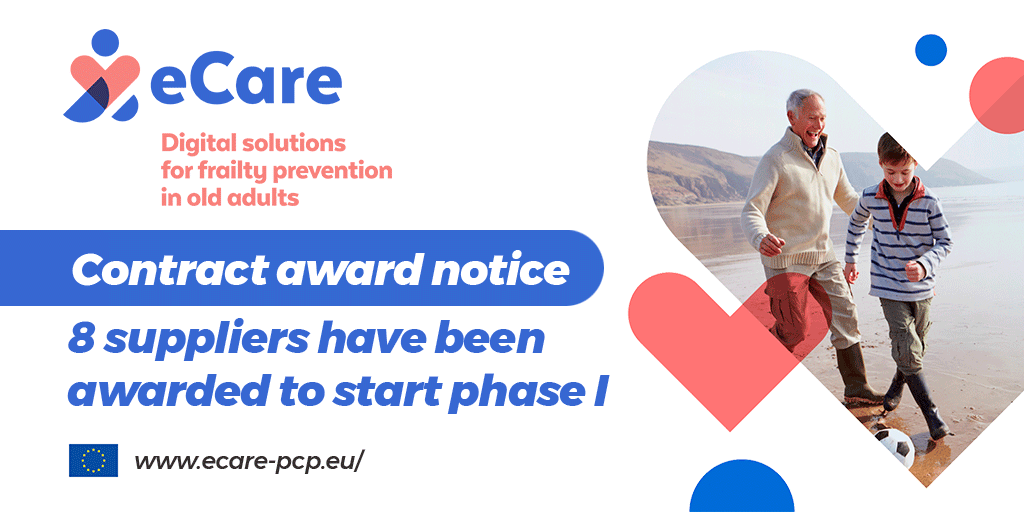 We have launched the first of the three PCP phases towards achieving our goal to develop innovative digital solutions for the comprehensive management of frailty in older adults.
The four procurers, representing healthcare providers from Italy, Germany and Spain, selected eight innovative approaches to frailty management to start with the design of the solutions in the first phase, which will last until May 2022.
In this first phase, suppliers will need to demonstrate the technical, medical, financial and commercial feasibility of the proposed concepts and approaches to meet the procurement requirements. Solutions' designs will have to pass the evaluation process before summer, and the best four among them will be asked to proceed to develop prototypes of the solutions during the second phase.
Wide industry participation in the eCare Call for Tenders
After a successful dialogue during the Open Market Consultation with industry stakeholders to complete the procurers' vision, a Call for Tenders was launched in July 2021, calling for innovative ideas and proposals. A total of 19 Tenders were submitted to the Call, representing 58 participating entities from 8 countries (Turkey, Spain, United Kingdom, Italy, Germany, France, Greece and Denmark), the majority of which represent Small and Medium-sized Enterprises (SMEs).
The selected solution concepts
While the procurers had defined common minimum requirements for the envisaged solutions, tenderers could propose innovative approaches to fulfilling them, resulting in eight solution concepts that are being further developed:


1. Bilbest Bilişim Sağlık Eğitim Dış Ticaret ve San. Ltd. Şti in consortium with Estudios Mega SL and Zadig SRL. Turkey, Spain and Italy
SmartFOR will offer a disruptive, innovative and comprehensive care management system powered by artificial intelligence to provide customized therapeutic solutions and early care interventions in monitoring, predicting and preventing frailty and frailty-related symptoms in older adults.
2. TELEVES in consortium with Foundation for Biomedic research from the University Hospital of Getafe, MG Biomed SL and Universidad Politécnica de Madrid. Spain
Their proposed solution is based on a set of technologies that comprises a monitoring sub-system for screening and follow-up, a digitalized older adult care model, and a virtual assistant for the delivery of preventive, therapeutic, and educational interventions.
3. CERTH/ITI in consortium with the Panepistimio Patron University of Patras, Gruppo SIGLA SRL, Brainstorm Multimedia SL and 112 Motion BV. Greece, Italy, Spain and Germany
FrailCare brings one step forward the research and technology on aiding the independent living of older people by providing real-time monitoring of physiological, behavioural and social parameters, ensuring adherence to pharmacological treatments and offering innovative therapies based on serious games for maintaining/ enhancing their cognitive and motor functionalities.
4. Pulso Ediciones SL. Spain
SOFI will include different tools to detect frailty and pre-frailty in old adults. These technologies will make the solution capable of providing professionals with a tool to screen older adults and identify those who might have frailty or pre-frailty, not only from the clinical, physical and psychological point of view but also from a socioeconomic perspective.
5. Foundation for Research and Technology Hellas (FORTH) in consortium with Uni Systems Information Technology Systems. Greece
BONVITA moves far beyond the state of the art, offering a holistic technology platform, integrating all components that are essential for the effective screening, prevention and management of frailty and pre-frailty supporting integrated pathways and developing knowledge sharing. Also, is able to support in practice shared care plans that involve various stakeholders.
6. Fundació Eurecat in consortium with Doole Health SL, Engineering Ingegneria Informatica S.p.A., Fundación FLS and Public Intelligence. Spain, Italy and Denmark
eMERIT solution self-management system works with a set of data coming from different sources that rely on an IoT-based system in which several devices and sensors can be integrated.
7. Dedalus Italia in consortium with HUMAN FACTOR & INNOVATION srl, Euleria srl Società Benefit, Expert.ai S.p.A., Engineering Department of the University of Sannio and Economics Department University of Sannio. Italy
The proposed solution is an integrated digital solution that will take into account a holistic and user-centric approach for the management of the different aspects of the frailty, a continuous focus on the engagement, training and empowerment of the older adults and the possibility to guarantee continuity of care among care environments, from hospitals to home care, by pursuing cost-effectiveness, sustainability, and affordability
8. NTT Data Spain in consortium with ASBAR S.L. Spain
Their solution will be based on the Everis ehCOS platform and the telecare platform. This basis is fundamental to be able to focus on the gap that the PCP challenge presents and to enable us to focus on the development of innovative services and tools for the management of the frail user.
Don't miss a thing!
Stay tuned about the progress of the eCare PCP project